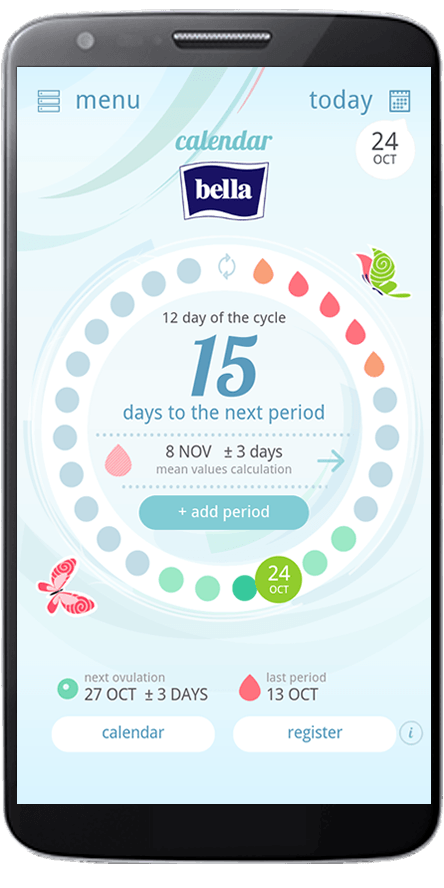 Menstrual calendar serves as the application's main screen and is displayed every time you launch the application on your mobile device.
Days to Period counter will allow you to control the time remaining to your next menstruation.
Start and Stop option allows you to control the menstruation process manually when it lasts longer or starts earlier, etc.
Application menu element arrangement allows you to navigate all the calendar features in an intuitive and efficient manner.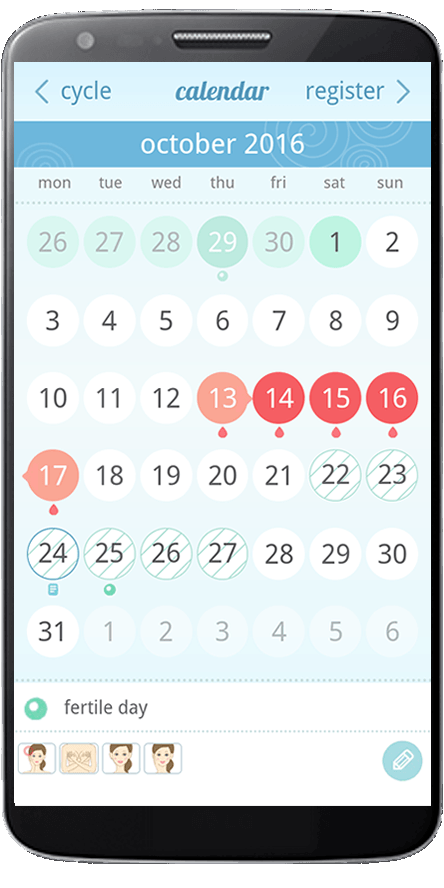 Calendar screen is the heart of the application. This is where you can access all the information on your menstrual cycle. The calendar shows your fertile days and menstruation every month and allows you to add notes and symptoms accompanying your periods.

Comprehensible icons allow you to identify menstruation and fertile days very quickly.
Notes are a feature that allows you to accurately describe everything associated with the menstrual cycle, e.g. the last sexual intercourse, visit at the gynaecologist's, etc.
Period allows you to add symptoms accompanying every menstruation with an intuitive mechanism. So that every next one is less surprising and annoying.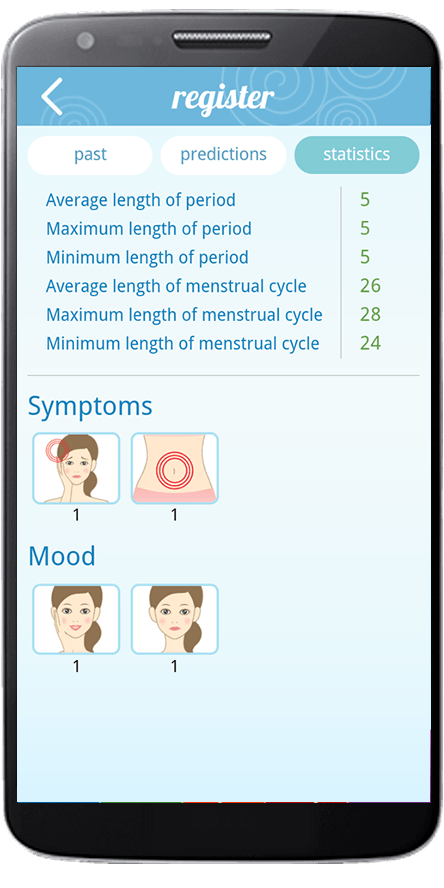 Register is a place where all the data relating to each (past and predicted) cycle are collected. You gain access to historical data that fully describe the dates and symptoms of your periods.
Past - history of your periods. Check when they ended and how their length has been changing over the past several months.
Future - are you wondering when your next period is due? With this option, you can check the dates of even 6 subsequent cycles.
Statistics present the most important figures relating to your menstrual cycle in a transparent manner, e.g.: number of symptoms, mood during periods, minimum and maximum period length or average period length.